welcome to the website of
classical guitarist


JAY KACHERSKI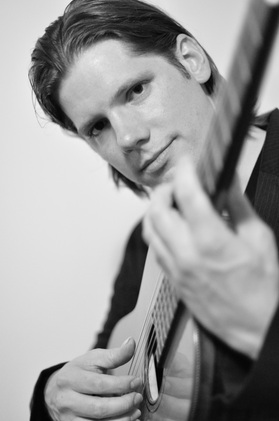 "Virtuosismo!!!...his technical dominance was on full display..."
- Conaculta, Mexico City,
2012
"With great inspiration he played his melodies to the rhythm of his guitar." -
Acapulco Sun, Mexico 2008NEWS AND UPDATES:
-My
Suite for Guitar and Flute
was performed by Lauren Harris (fl) and Daniel Rolison (gtr) at the New Mexico Classical Guitar Festival-June 2014
-I was recently interviewed for
An Evening of Classical Guitar Podcast
with host Tom Vela. We talked about my work developing the Mexican Guitar Music Catalog and some of the great works I have edited from Mexican composers.
Listen here

-My
Suite for Guitar and Flute
has been selected to be performed at the
2013 National Flute Convention
in New Orleans! I will be performing the work with flutist Judy Hand. The score will be available here on my website shortly!
Listen here to a live performance from 2012
Upcoming Concerts:
Sept. 22 - 30-Year Retrospective Concert for Bill Rose
Oct. 10th - Solo Concert at Louisiana Tech
Oct. 16th &17th -
Solo Concerts in Modesto, CA
Nov. 8th and 9th - Jesus Christ Superstar, Lake Charles, LA
Nov. 14th - Duo Concert with Dave Scott - trumpet, McNeese St. Univ.
Nov. 23 - Solo Concert - Tepoztlan, Mexico
(postponed)
2014 ----------------------------------------------------------------------------------
Feb. 24th - Duo Concert with Judy Hand - flute, McNeese St. Univ., LA

Mar. 18th - Solo/Duo Concert with Lina Morita, Chamber Series, LA
Apr. 2nd - Duo Concert with Lin He - violin, Tulane University, LA
Apr. 12th - Solo Concert
for Classical Minds Festival, Houston, TX
Apr. 14th - Duo Concert with Carol Lines - voice, McNeese St. Univ., LA
June 10th-15th - Lecture Recital, Lessons, Technique Class - Classical Minds Institute & Competition
http://www.classicalmindsfestival.org/
Sept. 2nd - Duo Concert with Lin He - violin, McNeese St. Univ., La
Sept.
5th - Faculty Potpourri, McNeese State
Sept. 7th - Duo Concert with Lin He - violin, Louisiana State University (LSU)

Ja
y Kacherski
specializes in contemporary Mexican classical guitar music and invites you all to visit the
Media Page
for samples of this music and the
MGMC
- the only
Mexican Guitar Music Catalog
on the internet that has links to videos, audio samples, and to websites for scores and composer information. Also visit the
Mexican Music
page for more audio samples and information about contemporary classical guitar music from Mexico.
---
Video Highlight of the Month:: "Cadenza" from the Concerto for Guitar and Small Orchestra by Heitor Villa-Lobos